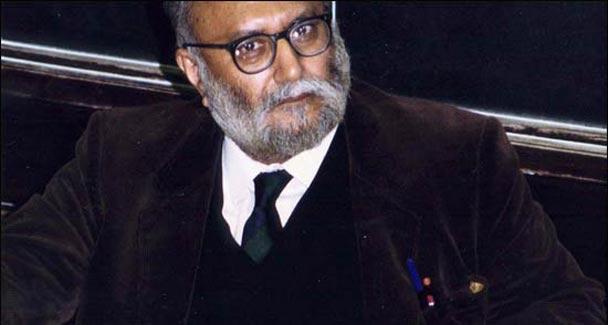 Dr. Abdus Salam in 1987 (Image courtesy: Dawn.com)
Dr. Abdus Salam (January 29, 1926 – November 21, 1996) is the only Pakistani national to win a Nobel Prize. A member of the Ahmadi Muslim sect, he was awarded the Nobel Prize for Physics in 1979. He left Pakistan for England in 1974, the year the government of Pakistani Prime Minister Zulfiqar Ali Bhutto declared Ahmadi Muslims as non-Muslims, barring them from describing their mosques as mosques or saying Islamic forms of greetings such as Assalam-o-Alaikum (peace be upon you).
Ahmadi Muslims, banned from referring to themselves as Muslims in Pakistan, have been persecuted on a regular basis by government officials as well as by Islamic clerics, who accuse them of not believing that Islam's Prophet Muhammad was the last prophet of god. In recent years, numerous blasphemy cases have been filed against members of the community.
After Dr. Salam's death in Oxford, England, his body was brought to Pakistan and was buried next to his parents' graves in the town of Rabwah, a center of Ahmadi Muslims. The epitaph on his grave initially read "First Muslim Nobel Laureate," but later a magistrate ordered that the word "Muslim" be removed from the epitaph, changing it to "First Nobel Laureate."
Recently, Pakistani columnist Masood Hasan wrote an article marking the anniversary of Dr. Salam's death and recalling his contributions to physics in Pakistan. In the article, titled "Over the Top," Hasan argued that because of Islamic "doctrinal differences" over the past few decades, Paksitani government officials did not treat Dr. Salam well, not even after he was awarded the Nobel Prize, while various governments worldwide such as India, UK, and Italy honored him and encouraged his scientific research.
Tweet